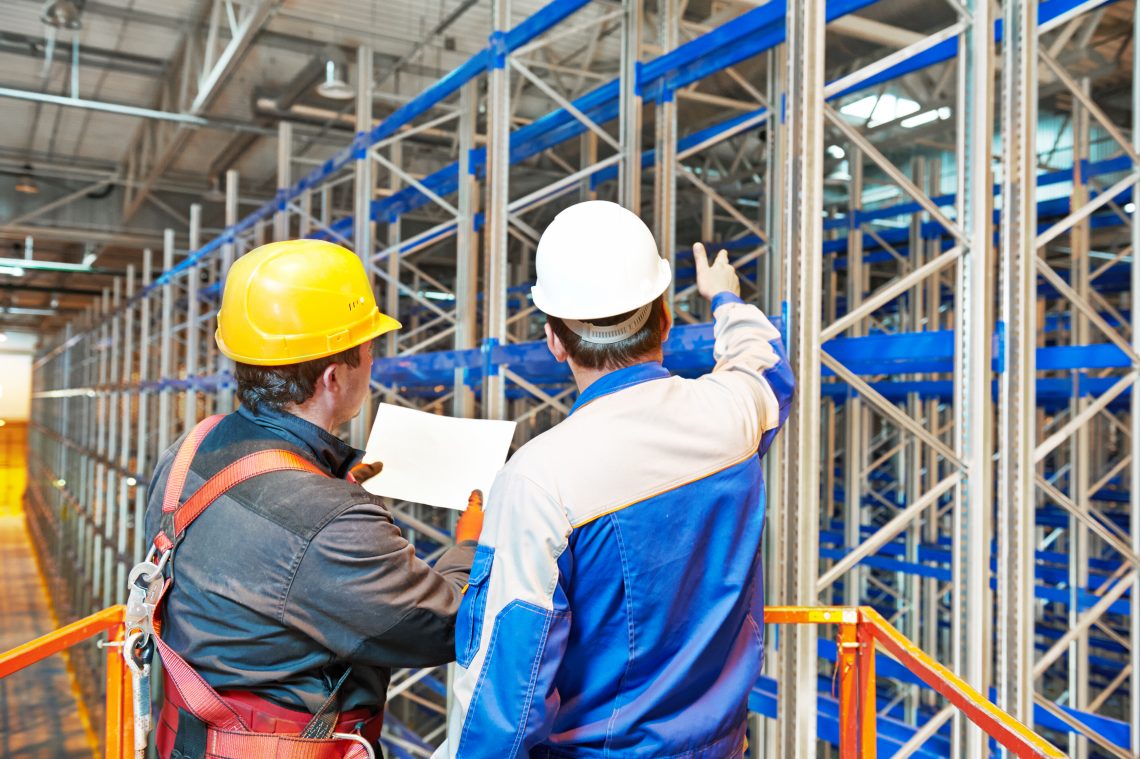 Hiring a pallet rack systems installation crew is more than just asking, "When can you be here." Warehouse pallet racking is a large capital expenditure with long-term expectations. It deserves careful consideration through the entire design, engineering, manufacturing and, yes, installation process. Meaning that your expectations for excellence from your design team has to carry through to your installation team.
How do you ensure that you get such a team on board to construct your pallet racking system? Here are 5 Key Questions you should ask upfront before settling on an installer.
5 Key Pallet Rack Installation Questions
Is the crew comprised of experienced, professional rack installers?
Is your team backed by a full-service materials handling systems integration company?
Is safety a priority?
Is your team insured & equipped to handle the build?
How do you handle difficulties on-site?
---
Question 1 – Is the crew experienced and are they professional rack installers as opposed to temporary labor?
The E-Distribution team of professional rack installers are experts at their craft. They understand the intricacies of each system which is ever more critical today as pallet racking systems have become more complex and often have multiple storage solutions within the same racking configuration, think
pick modules
for example.
Other rack systems must be configured with automation – whether it's autonomously guided vehicles (AGVs), pallet shuttles, robotic picking arms, or built-in order picking technology. An experienced professional will know what to be prepared for and how to handle any on-site challenges with the installation process.
Question 2 – Is there a full-service materials handling systems integrator backing the installation team? The value of a one-company, full-service solution is that support is always readily available and job urgency is shared across every division. If difficulties come up on-site, a team like E-Distribution will dedicate the necessary resources to solve the challenge and keep the rack installation progressing. In addition, E-Distribution is unique in that we have a custom fabrication shop that can manufacture any special, custom parts or additional safety components such as rack or column guards, overhead protection, safety rails, etc. No need to wait for a custom order from a manufacturer.
Question 3 – Is Safety a Priority? Seems like something that should be a given but it's not always. Workplace safety is a top priority for E-Distribution and our teams follow OSHA guidelines and any building code and customer-specific requirements, if any.
Question 4 – Is the installation team insured and fully equipped to handle the build? E-Distribution installers are fully insured, and our team brings all necessary equipment for the installation and is trained in proper use techniques. Whether heights, facility temperature, floor inconsistency, etc. our project foreman knows the questions to ask and pitfalls to watch out for to best prepare the team. We typically perform an onsite inspection before the build to ensure that we roll-in with everything we need to complete the project.
Question 5 – How do you handle difficulties on-site? Even with an abundance of preparation, our experience teaches us that you can plan for the unexpected but something unexpected may still happen. An experienced crew has an instinctual way to handle some matters and in general when you are well prepared you are better situated to handle difficulties quickly and reliably to keep the project moving forward. In addition, the E-Distribution installation team has the support of our full-service company behind them for engineering, operations, and even sourcing if needed.
The E-Distribution installation team is a trusted source for pallet rack systems install, relocation and tear-down. We have the experience, resources, training, and equipment to reliably construct simple to complex material handling systems and storage solutions in any warehouse climate or facility configuration. Our crew is responsive, professional and dedicated to meeting customer deadlines and expectations. Call today to schedule your next project or talk to our design team to get started on future warehousing system plans.