First, erase the image you have in your head of that dodgy used car salesman, or maybe even worse, the typical used pallet rack guy (ugh!)! Good…  Now you're ready to learn what to watch out for and exactly what steps you need to take to find the right used pallet rack system for your next project.  If sourced carefully, used equipment can save as much as 50% compared to new systems.  Depending on the size of the project, this will translate into thousands of dollars.  Another bonus – you'll probably get the job done in half the time by avoiding manufacturer lead times.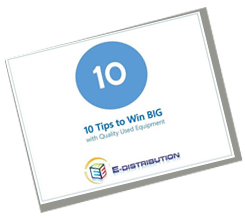 The following is an abbreviated version of our recent whitepaper – 10 Tips to Win Big With Quality Used Equipment. Take a look here and download the PDF for full details or pass around the office.
1.
Only Work with a Reputable Reseller
– Unfortunately, the used products market is littered with unscrupulous companies who misrepresent the condition or capacities of the pallet rack. Don't let this scare you. There are just as many honest resellers who have been in business for a long time by selling quality, used systems. Just make sure to do your research and check references!
2. Be Ready to Jump at the Right Deal
– Timing is everything and savvy buyers know not to sit on a good deal. Pay close attention to building liquidations and foreclosures. These properties are working with very tight timelines and their equipment is often sold on a first-come, first-serve. Be prepared to visit the project site and wire transfer funds if needed.
3. Go Look at the Racking – This really should be #1 since it's absolutely imperative, (but since it's #3 in the whitepaper, we'll keep it that way). Do NOT base your decision on photos and descriptions alone. Both can be deceiving. Inspect the rack yourself!
4. Don't Let a Little Rust Scare You – Excessive rust isn't a good thing, but a little rust shouldn't be a deal breaker. Resellers may offer to repaint the pallet rack with a rust-stopping primer, followed by a quality top coat… and good as new. Consider using the "rust factor" to negotiate a lower price to cover the new paint finish.
5. Receive Transfer of Title Before Payment – Never pay for equipment by wire transfer or check without signed documentation including transfer of title, purchase order and used equipment contract. Bottom line – Protect yourself.
6. Request Engineered Calculations & Capacities – This is another "gotcha" area for used pallet racking. Without the engineering calculations, you could end of overloading the beams and risking failure. Always request calculations stating the capacities of the equipment when it was manufactured.
7. Invest in NEW Hardware – You just got a great deal on a used pallet rack system. Now don't skimp on the hardware. Used hardware isn't a good idea – it might be stripped or stretched preventing a snug-fit connection. Installation will also be a lot quicker with new hardware.
8. Ask for Original Install Drawings – Installation and approval drawings are a valuable resource, providing design and capacity information from the manufacturer. An engineer can use these drawings to verify that the new design will hold the desired load weights.
9. Purchase a Sample Bay – This tip applies to very large used rack systems. See if you can purchase a sample bay to test on site with existing material handling equipment to identify any issues.
10. Package Racking for Efficient Shipping – Make sure the dismantle team bundles the racking properly to avoid damage during shipment and the possibility of added freight costs.
We've had close to 25 years' experience designing, selling, installing and reselling both new and used pallet rack systems. We can probably say, "we've seen it all!" Let us help you navigate the used pallet rack market to ensure you find a quality system at a great price.