How'd they do it?
With some open minds, a little creative thinking and a mix of new and used pallet rack to save the bottom line.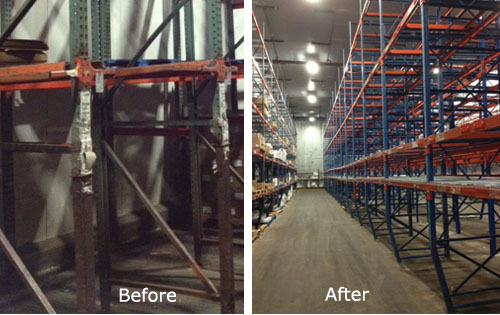 Performance Food Group (PFG) is a leading foodservice provider in the US, serving over 130,000 restaurants, schools and institutions. Their growing Little Rock, AR needed help with some major capacity and material handling challenges.
Challenges:
Extensive rack damage – PFG Little Rock had over 3,000 pallet positions of damaged 2-deep roll-formed drive-in rack. Located in a small cooler with narrow aisles, the lower sections of the frames were bent and bashed and repeatedly repaired. PFG was concerned that the damaged system posed a risk of failure.
Needed pick faces – PFG faced a common foodservice distribution struggle; how to accommodate ever-increasing numbers of SKUs. This was particularly the case in their cooler category where they needed to find several additional floor-pick faces, all within the confines of their existing cooler space.
PFG turned to E-Distribution, long-term storage integration partner with over 30 successful systems projects completed throughout the PFG network.
E-Distribution Solution Saves $150k in Equipment Costs
E-Distribution proposed a used (or like-new), Frazier 2-deep push-back system to replace the existing roll-formed drive-in. Budget and durability were top priorities and this used structural rack met both requirements; structural pallet rack is far more abuse-resistant than roll-formed and very capable of withstanding extensive forklift abuse. Push-back also offered added rack safety by delivering pallets directly to the aisle face vs. drive-in which requires the forklift to drive into the rack.
Simple, Quick Fix for To Gain Pick Slots

A creative and cost-effective solution was also developed to create additional case pick locations. The floor level pallet locations were already used for case selection – we added an extra case-pick level using used structural beams and decking located just below the push-back and above the floor level. This created 6-8 additional pick faces (approximately 4-5 case deep) per bay.
To see read the full story, including details of a seamless implementation with no disruption of operations.  Download the case study here.
For our current inventory of new and used pallet rack systems or some FREE storage design advice.  Contact Us